(formerly the Purbeck Association of National Trust Members)
We're a voluntary association of National Trust Members and Volunteers established in 1987 to promote the work of the National Trust
Click on the links below to learn more about us
Click this button to see a 'page-by-page' pdf version of the latest Newsletter

or this one to see a 'page turning' version

Click this button to see a video message from Mark Harold, the National Trust Director for the South West. This message is addressed specifically to staff and Volunteers, but is of interest to all members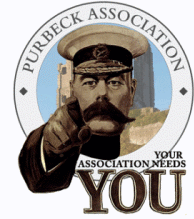 We're lucky that we've recently gained a new Treasurer, some new Event Organisers and a new Editor for the Newsletter. We could always use more help however.
There are lots of small ways in which you could help. These include:
Passing on printed copies of emails to a member who doesn't have internet access

Delivering a few Newsletters twice a year to help us save postage

Selling raffle tickets or helping make tea at our Talks.
If you're interested talk to any Committee member. Contact details are in the Newsletter.
The usual disclaimers apply - we're not responsible for any errors or omissions, nor for the content of any external sites to which we have links.
This page was last updated 01 September 2017
© The Purbeck Association of The National Trust