We paid for the low white storage cupboards in the photos above - if you know the Centre you'll recognise that there's one either side of the wood-burning stove.

Apart from providing storage space for materials the cupboards have freed up space at the end of the building in the recess next to the main entrance. The Trust have now been able to install the high-tech screen shown on the right. The overhead projection unit can be linked to a computer, or to some equally high-tech microscopes, to enable staff to give really high quality presentations to visitors.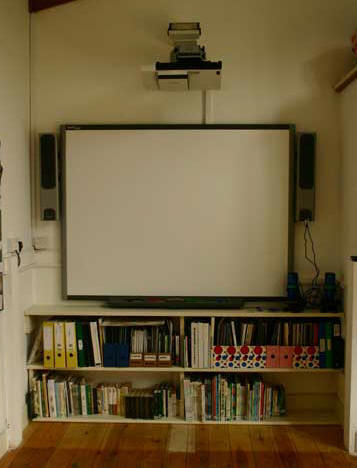 The centre has eco-friendly composting toilets. These are on the verandah at the rear of the building, where we paid for new storage benches in 2006. The waste from these goes into special pits under the verandah floor, where it decomposes naturally. So far the pits have never had to be emptied.

Staff delight in telling visiting children about these just after they've sat out on the verandah eating their lunches.

We're paying for an interpretation board that will explain the workings in detail. I'll put on a photo of the board once it's installed. Meanwhile, if you look again at the pictures of the storage boxes here, you'll realise that the Committee members in the picture aren't dancing on air ....